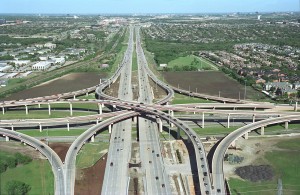 I spent a lot of time in Dallas this past week, running to and from meetings and checking on my mom who was in the hospital. Lots of driving in lots of traffic. Thank goodness for GPS.
I grew up driving in Dallas and have lived in other metropolitan areas so I really don't mind the traffic or even the speed at which many drivers navigate the freeways. It's the overpasses that freak me out. Here's a typical scenario from Tuesday: I'm zipping right along on I-30 in east Dallas when my GPS notifies me to take the exit for the George Bush Turnpike. Now trust me when I say that the George Bush Turnpike is fabulous. Wide, uncongested lanes. Smooth flowing traffic. Sane drivers. Construction free. It's a wonderful way to get to north Dallas. So when the exit comes up, I obediently take it and moments later find myself on the overpass—a HIGH overpass—that will connect me to the turnpike. I can see nothing but sky before me and sky on either side. There's nothing within view that connects me to solid ground.
My heart rate used to skyrocket anytime I encountered a high overpass and my knuckles would turn white gripping the steering wheel, as though gripping the wheel tighter was going to keep my car from careening off the overpass. But I've gotten better. My heart rate still increases a little, but I've learned the trick to navigating an overpass. I force myself to stare at the license plate of the vehicle ahead of me. My peripheral vision tells me that I'm ascending into sheer nothingness but the license plate assures me that as long as the vehicle ahead of me is doing fine, I'm doing fine as well, regardless of what I may be feeling. (I can hear some of you saying, "But what if there isn't a vehicle ahead of me?" Clearly you haven't driven in Dallas traffic lately.)
So, this week as I was making my way across the overpass to connect to the George Bush Turnpike (did I mention it's a HIGH overpass?), two thoughts occurred to me. First, getting to a better place in life often requires that we travel some pretty scary roads. Whether it's a new job or a new relationship or a new health challenge, traveling into the unknown with only the sky in view can be unsettling.
The second thing that came to mind as I made my way across the overpass was Hebrews 12:1-2, "And let us run with endurance the race God has set before us. We do this by keeping our eyes on Jesus, the champion who initiates and perfects our faith." As we travel uncertain roads, roads that will ultimately take us to better places, we must keep our eyes on Jesus. Regardless of how high the overpass may be, even if you can see nothing but sky, keep your eyes fixed on Jesus as He leads you on to the places He has for you.
And if you'd like a theme song for the journey, here's one from FOR KING & COUNTRY: