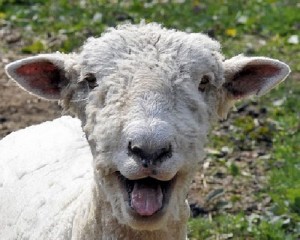 Last week I started a series of posts on Psalm 23 but didn't get very far. I only made it through the first phrase of verse 1: The Lord is my shepherd. We looked at the tone of pride in the sheep's voice (remember, the sheep is the speaker of the poem). Of course he boasts. The sheep knows that his very life depends upon the identity of his shepherd.
In the second part of verse 1, the sheep finishes his thought: "The Lord is my shepherd; I shall not want." When I first memorized this verse as a child, I misunderstood the meaning of the King James English and thought that I wasn't supposed to want the Lord for my shepherd. (I didn't say I was a bright child.) Eventually, I grew to understand that "I shall not want" means that I lack nothing. Or as the New Living Translation says, "I have all that I need."
But when my husband and I were in the thick of our grief journey, we needed a lot of things.
We needed full-time jobs.
We needed to feel like our lives made a difference.
We needed friends.
We needed emotional healing from the trauma of being told to resign our church.
And we desperately wanted a home of our own again.
It's been seven years since those darkest of days and here are three things I've learned along the way.
1. Our Shepherd always meets our needs but sometimes it's a process. When my husband was told to resign, the nation had just entered into the worst recession since the Great Depression. No one was hiring. No one. For 13 long months we worked at various part-time jobs as we went through the excruciating process of reading job postings, tweaking resumes and writing cover letters. It was a painful process but a necessary one. If you find yourself in the job search process, hang in there. Keep at it. Every step of the process helps you determine what it is you really want to do. Every interview, including those that don't lead to job offers, helps you refine your answers and polish your presentation skills. (Check out this article on preparing for an interview.) Trust that the Shepherd is meeting your needs. It may take awhile but eventually He will lead you to the place He has for you.
2. The Shepherd may not meet your needs in the way you're expecting. I desperately needed friends but the people I'd considered friends were connected to the church and they quickly vanished. But I was grieving so deeply that I was in no shape to meet new people. Ultimately, in my quest to feel connected, I found new friends in the K-LOVE radio DJs and the artists they played. Yeah, I know, that sounds weird. Granted, I never called them and I wasn't on Facebook at that time so I didn't send them messages, but I listened to them constantly. I "hung out" with them each morning and afternoon on my drive to and from work. I knew many of the artists' stories and the ones whose songs touched my heart became my surrogate friends. Seriously, if I ever meet Mac Powell of Third Day, I'll probably hug him like a long-lost friend. There's simply no way to explain how the Shepherd used Third Day's song "Revelation" to sustain me in my grief journey. (I tell the story in chapter one of Moving On.)  And it would probably startle the guys in MIKESCHAIR if they knew someone my age was one of their biggest fans because of "Let the Waters Rise." So while I had very few friends I could see face to face during my grief journey, the Shepherd used the K-LOVE DJs and artists to meet my need to feel connected.
3. Trust that the Shepherd will meet your needs, even when you can't imagine how He's going to do it. In his letter to the church at Philippi, the apostle Paul wrote, "And this same God who takes care of me will supply all your needs from his glorious riches, which have been given to us in Christ Jesus" (Philippians 4:19). It's easy to believe this verse when times are good, but when times are hard, it's easy to worry and it's tempting to hang on to every penny. But the Bible is clear about sacrificial giving. So we took God at His word and during our months of part-time jobs, we set aside a portion of each paycheck for the Lord, just as we'd done all of our married life. The tangible act of setting the money aside for the Lord's work reaffirmed our belief that God would provide, even though our emotions were scrambled at the time.
And God did provide. We never missed a meal, we always had a roof over our heads and every other physical need was met. And slowly but surely, our hearts began to heal.
If you are hurting, hang on. The Lord is YOUR shepherd. He WILL take care of your needs. Every. Single. One.