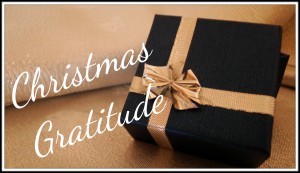 Eight years ago, my husband and I experienced our first Christmas having no church home. The month before, we'd been unjustly forced to resign our church so to say that Christmas was tough that year is an understatement. The holiday season was brutal. Absolutely brutal.
I didn't realize it then but I know now that I was in a state of shock. I couldn't believe how we had been treated. Perhaps you've experienced a similar situation. You were the targets of what Thom Rainer calls the "church cartel."
If so, I grieve with you. I know the challenge you face right now – the challenge to "be thankful in all circumstances." However, "this is God's will for you who belong to Christ Jesus" (1 Thessalonians 5:18). We're commanded to be thankful. So let's make an attempt, regardless of whether you think it's a wonderful life or you feel like you've been run over by a reindeer.
Throughout the month of December, I'm going to focus on thanksgiving and I invite you to join me. Using the alphabet, list 26 things for which you are thankful. Are you ready?
December 4-10, A – F 
Access to the Father – The fact that I can enter into the presence of Almighty God as His child is completely beyond my comprehension. The writer of Hebrews put it this way: "And so, dear brothers and sisters, we can boldly enter heaven's Most Holy Place because of the blood of Jesus. By his death, Jesus opened a new and life-giving way through the curtain into the Most Holy Place. And since we have a great High Priest who rules over God's house, let us go right into the presence of God with sincere hearts fully trusting him" (10:19-22a NLT).
Books – What a wonderful way to learn, grow, escape. Some of my favorite authors include David Jeremiah and Charles Swindoll. In the fiction category, I'm a huge fan of Lee Childs' Jack Reacher series. As I explain in my book Moving On, my father-in-law got me hooked on Jack Reacher. When Reacher sees a wrong, he makes it right. He might break some bones and blow up half the county in the process, but he doesn't put up with bad guys mistreating good guys. During those first years after being forced from our church, Reacher was my hero. When your life is shattered because of other people's actions and you're suffering pain more intense than you ever imagined possible, the thought of someone coming to your defense and making your enemies pay for what they've done. . . well . . . it's an awfully nice thought.
Commitment – One of my college professors, Dr. C. W. Christian, spent an entire class teaching that marriage should never be based on love. Instead, marriage should be based on commitment. Truer words were never spoken. Commitment outlasts giddy feelings of love and happiness. Commitment hangs in there when the only thing you can feel is pain. I am thankful that my husband and I are completely committed to our marriage. During the toughest days of our lives when we had no church, no jobs and no home, we knew we had each other. Commitment got us through the storm, stronger than ever.
Deer – I've been accused of being a "Bambi lover," but Bambi has nothing to do with my love of deer. The fact is, when I see deer, especially fawns, I see the hand of God and feel His presence. They've always been my special connection to my heavenly Father and for that, I am thankful.
Eyes – Eyes to see my husband's smile or mischievous expression. Eyes to watch NCIS or read a good book (Reacher, anyone?). Eyes to see my new grandson (he's due any day now!). Eyes to see God's beautiful creation as one season changes into another. Eyes to see fawns. Eyes to see the beautiful Christmas lights in my neighborhood. Too often I take my sight for granted. This season, I'm making it a point to be grateful for the ability to see.
Football – Football season goes hand-in-hand with crisp fall days and a roaring fire in the fireplace at night. Even if we're not following a game closely, we'll have the TV on for the crowd noise in the background. Somehow, I have more energy to clean the house if a football game is on the TV. If Denver is playing, though, you won't find me cleaning house. I'll be watching every play of the game and cheering every time they score.
What about you? What are you thankful for? Please feel free to share some of your ideas in the comment box. We'd love to know your selections for A – F.
(Go Broncos!)