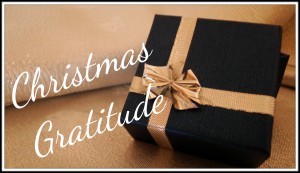 Last week I started a series of blog posts on gratitude. Using the alphabet, I'm choosing 26 things for which I am thankful and I invite you to do the same. Why? Because Christmas can be an emotional time of the year for lots of folks, especially if you've experienced loss recently. You may not feel that it's the most won-der-ful time of the year. You're certainly not going to have a holly, jolly Christmas. But that doesn't mean you can't celebrate the season of Christ's birth. It just means you may have to be a bit more intentional.
And nothing says intentional like coming up with 26 things for which you're thankful. They don't have to be serious or spiritual things – simply things for which you are truly grateful. When I first started, I thought it was going to be a breeze. Not so. Pondering over each letter has challenged me to think. I hope you'll join me in the challenge.
December 11-17, G – L
 Grace – Second Corinthians 12:9 says it best: "My grace is sufficient for you, for my power is made perfect in weakness." What a wonderful promise from our heavenly Father. It's no wonder that some of the most powerful Christian music focuses on God's grace. Take a moment and listen to these songs about grace. Amazing Grace   Your Grace is Enough   Your Grace Finds Me
Hope for Healing – When we're in the throes of grief, whether it's from the loss of a loved one, the collapse of a marriage, the betrayal of friends or a thousand other kinds of grief, it's easy to wonder if the pain will ever end. After being on a healing journey for eight years, I can assure you that healing does come. It doesn't come quickly and you may never heal completely, but healing will come in God's time and in His way.
Intercession – When someone around you is hurting, the natural desire is to make the pain go away. But many times, we cannot remove the pain. Thank God for the gift of intercessory prayer so that we can intercede on behalf of those who hurt.
Joy – One of the most important lessons I learned after we were forced to resign our church is that grief and joy can exist simultaneously. Even after God blesses you with new fulfilling ministries, the memories of how you were treated by the people you loved and served can bring pain. I'm so thankful that the joy of the Lord is not dependent upon our relationship with others but on our relationship with Him.
K-LOVE & KVNE – more about this when we get to "M."
Laughter – Abraham Lincoln once said, "With the fearful strain that is on me night and day, if I did not laugh I should die." And as Reader's Digest has said for years, laughter is the best medicine. Need a good laugh? Check out Tim Hawkins on YouTube. Here's one of my favorites.
What about you? What are you thankful for this holiday season?