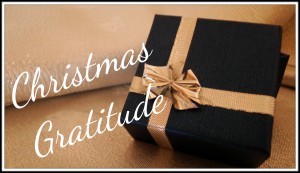 Music – Last week I said I was thankful for K-LOVE and KVNE. Let me explain. During the darkest months of my life, the music on K-LOVE radio kept my soul alive. Third Day's "Revelation" served as my prayer. Seriously. Every time "Revelation" came on the radio, I'd breathe a four-word prayer—"This is me, God"—and let the lyrics of "Revelation" express the rest of what was in my broken heart. Many other recording artists such as MIKESCHAIR, Saleh, Mercy Me and Amy Grant seemed to pour their spiritual strength into me through their music. Today, the city where I live has an outstanding Christian radio station, KVNE, so I'm blessed not only with great music but I get to know some of the on-air personalities as well. Contemporary Christian radio continues to help me grow spiritually, and for that I am so grateful. Just listen to this beautiful Christmas song from Michael W. Smith and Carrie Underwood.
Noses – I live in the rose capital of the world so having a good sense of smell can be quite a blessing. There are also the wonderful smells of the Christmas season like a live tree, fresh baked gingerbread and hot cider. Sure, there are times when having a good sense of smell has its downside, but overall, noses are wonderful things.
Ortega, Fernando – Here's one more Christian music artist who could have been listed above, especially his rendition of "Give Me Jesus."
Prayer – The ability to communicate one-on-one with almighty God is a privilege that far surpasses my comprehension. But oh, I am so grateful for the privilege and power of prayer.
Quiche – I don't know if real men eat it or not, but I love it and am quite thankful that a la Madeleine Country French Café has opened in my town.
Rend Collective – This group of Christian musicians has been described as a folk rock worship band. I not only love their music but am thankful that they are not from Nashville or Austin or any other music city in America. The fact that they are from Northern Ireland is an exciting reminder that God is alive and at work throughout our world. If you're not familiar with Rend Collective, check out their bio. And listen to this!
Scott – My husband, Scott, is my favorite person on the planet. We've been married over 38 years and during that time we've been up against some pretty tough situations. With each challenge, I've watched a man of integrity seek God's will and move forward in faith, regardless of what it cost him personally. I'm thankful I get to do life with him.
What about you? Are you making your own list of things you're thankful for this Christmas season? If so, send me an email at deanna@deannaharrison.com or leave a comment below. I'd love to hear from you.