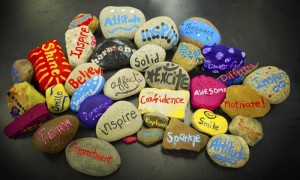 Over the past week, I've heard people on the radio talking about their "word for the year." The idea is to choose a word that will challenge you to become a better, stronger person in the new year.
My word for 2017 happens to be the same word that I had for 2015 and 2016. Perhaps I'm a slow learner. Or perhaps I'm in a phase of life where I just really, really need to be reminded of my word.
My word is Trust.
But not everyone or everything deserves my complete trust:
Experience has taught me that trusting friends and acquaintances can be risky. Having a close circle of trusted friends, however, is important to living a healthy life, so I do have a few friends that I trust. I've just become more cautious about who I allow into that circle.
Putting my trust in leaders is also risky. Whether it's a leader of the women's missionary organization at church or the leader of a political party, odds are pretty good that at some point I'm going to be let down.
Putting my trust in money is just downright silly. Proverbs 23:5 warns, "In the blink of an eye wealth disappears, for it will sprout wings and fly away like an eagle." Obviously, we have to have common sense when it comes to money. But putting our trust in wealth is unwise.
For the most part, my health is good. I have no complaints. But health can change in the blink of an eye. A drunk driver. A freakish fall. A test result that comes back malignant rather than benign. In just a moment's time, good health can become a thing of the past.
It hasn't been that long ago that jobs were considered stable parts of life. Not anymore. As one headline put it, "Job Insecurity is the New Normal."
Clearly, where I place my trust makes all the difference. So instead of a word for the year, I guess it's more accurate to say I have four words: "I trust you, Jesus." Jesus is the only One who is worthy of my complete trust. He is the only One who is "the same yesterday, today, and forever" (Heb. 13:8).
We're not even two weeks into 2017 and I've already had several nights where I fall asleep repeating "I trust you, Jesus." I don't know what this year holds but I'm facing it with hope and anticipation. When Paul wrote to the Christians in Rome he said, "I pray that God, the source of hope, will fill you completely with joy and peace because you trust in him" (Rom. 15:13a). Did you catch that? Joy and peace are the byproducts of placing our trust in God.
As another year unfolds, I hope you place your complete trust in the only One who is worthy of receiving it – the only One who has the power to keep your heart from being troubled – the only One who can grant you joy and peace.