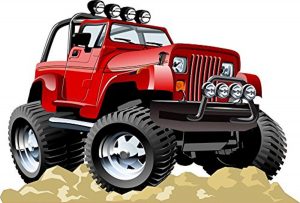 Recently I walked into a car dealership and told the young salesman what I was looking for. Unbeknownst to him, I'd already spent months researching vehicles, going so far as to create a spreadsheet with the names of various vehicles and all pertinent information. Make, model, year, price, interior/exterior color, available safety features and dimensions were all noted. Every detail mattered but size was a deal breaker. I wanted an SUV but it had to be small. So I'd collected the information, studied the data, read reviews, consulted Consumer Reports, taken a few test drives, and finally knew what I wanted.
After spending an hour with the salesman and test driving the exact car I'd already determined was "the one," I had to admit that it wasn't the right one after all. It felt too big. When I expressed my concern about the size, the salesman asked if I'd considered the smaller Sport edition.
The what? I didn't even know there was a Sport edition of the car I'd driven. Apparently, it had just been released. In fact, when I first began shopping for a car, the Sport edition didn't exist except in an assembly plant.
At times, my car shopping experience mirrors my prayer life. I'll gather information, figure out what I want and then take the request to God. That's not a bad thing. After all, Philippians 4:6 teaches us to "present your requests to God." So that's what I do.
And then I wait.
And wait.
And wait.
I wonder why God is silent.
And then I wait some more.
Psalm 37:4 says to "Take delight in the Lord, and he will give you the desires of your heart." I try so hard to do that, but why isn't God giving me the desires of my heart?
The day I discovered that the car I really wanted—the one that would meet all of my criteria—was one I had not known even existed, God spoke to my heart:
Bring me your requests, my child. Pray in faith. But know that when I answer your prayer, when I give you the desire of your heart, the answer may be something that you do not even know exists. So go ahead and do your research. Gather information. Seek input from wise, trusted friends. Then ask me for what you want. But when I delay—when the wait for an answer is long and difficult—trust that I will keep my word and give you the desire of your heart. Remember, though, that what your heart really desires may be something that you know nothing about right now. Your job is to trust me. For I am your God, and I am able to do far more than you can ask or imagine.