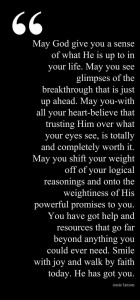 It had been a good week overall. A couple of affirmations. A couple of compliments. And then, BOOM! Out of nowhere. A negative statement knocked me for a loop. Just one word. One person's opinion. Yet it caused me to become discouraged.
It seems like there are far more sources of discouragement than sources of encouragement. Or perhaps the issue is that it takes far less to discourage than to encourage. It takes just one floating fly to ruin a glass of tea, even though you've used multiple packets of sugar to sweeten it just right. And it takes just one negative word to undo multiple affirmations. It's a matter of how our brains are wired. The research of Dr. John Cacioppo of the University of Chicago has proven that our brains have a stronger reaction to negative stimuli than to positive.
So what are we to do? When we're rebuilding our lives after a time of grief or loss, we need to take the initiative to fill our minds with words of encouragement. We can't afford to wait for others to offer affirmation. Instead, we must be diligent in combating the negative messages of the world by seeking out sources that inspire, bless and reassure. One of my primary sources of encouragement is contemporary Christian music. If you read Moving On: Surviving the Grief of Forced Termination, you'll discover the vital role that Third Day played in helping me survive years of grief. I'm also a big fan of Sarah Young's Jesus Calling and refer to her devotionals often. Yesterday, I sat down and read through several of my favorites, knowing that they would encourage me to continue walking by faith. Another source of encouragement, of course, is a group of Scripture verses that God uses repeatedly to remind me that He is in control.
Here are a few of my favorites:
"This is my command—be strong and courageous! Do not be afraid or discouraged. For the Lord your God is with you wherever you go."—Joshua 1:9
"Do not be afraid or discouraged, for the Lord will personally go ahead of you. He will be with you; he will neither fail you nor abandon you."—Deuteronomy 31:8
"The Lord directs the steps of the godly. He delights in every detail of their lives. Though they stumble, they will never fall, for the Lord holds them by the hand."—Psalm 37:23-24
What other sources bring you encouragement? Please leave a comment and share what has helped you during times of grief and loss.