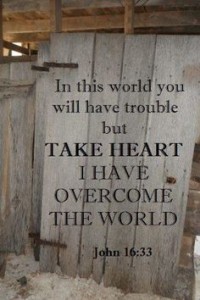 What's your favorite Bible verse? I know. It's hard to pick just one. So, what is one of your favorite verses? Got it? OK, let's see if your verse was one of the top five verses shared last year worldwide via email, text and social media. According to an article in Christianity Today, the following verses were shared most in 2015:
Proverbs 3:5-6: "Trust in the Lord with all your heart and lean not on your own understanding; in all your ways submit to him, and he will make your paths straight."
Philippians 4:6-7: "Do not be anxious about anything, but in every situation, by prayer and petition, with thanksgiving, present your requests to God. And the peace of God, which transcends all understanding, will guard your hearts and your minds in Christ Jesus."
Joshua 1:9: "Have I not commanded you? Be strong and courageous. Do not be afraid; do not be discouraged, for the Lord your God will be with you wherever you go."
Romans 12:2: "Do not conform to the pattern of this world, but be transformed by the renewing of your mind. Then you will be able to test and approve what God's will is—his good, pleasing and perfect will."
Romans 15:13: "May the God of hope fill you with all joy and peace as you trust in him, so that you may overflow with hope by the power of the Holy Spirit."
All of these verses have one thing in common: they are verses that encourage. Regardless of where we live or the country we call home, we live in difficult times. Morality has been shredded in the name of acceptance. Calm, open-minded discourse has become virtually impossible in any arena. And speaking the truth in love has become a true rarity.
Yes, we live in difficult times. Jesus knew we would. In John 16:33 He told His disciples, "In this world you will have trouble." But thank goodness His words did not end there. "You will have trouble. But take heart! I have overcome the world."
Whatever troubles plaque your life right now, may you find peace and encouragement in the five most shared verses of 2015. Take a moment to listen to Rich Mullins sing "Bound to Come Some Trouble." Then reach out to Jesus and hold on tight.