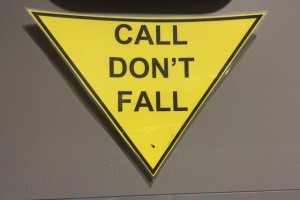 Bright yellow signs hung throughout the hospital. They were everywhere. In the elevators. Bathrooms. Cafeteria. Patients' rooms. In the hallways. No matter where I stood, at least one yellow triangle was visible. Never has a message been so urgent and clear. I was, after all, in a surgical hospital.
CALL. DON'T FALL.
Patients with new knees, new hips and other "accessories" shuffled up and down the halls, inch by inch, and every few steps a bright yellow triangle reminded them to . . .
CALL. DON'T FALL.
And so it was that I, too, was reminded to Call. Don't Fall as I pulled night duty after my 90-year-old mother's knee surgery. It had been a long day and the night was going to be even longer. My heart was heavy as I sat beside my mom's bed in the dimly lit room. That's when my eyes fell on the yellow triangle positioned on the wall beneath the television.
CALL. DON'T FALL.
Why all the reminders? Because patients can be forgetful.
They can be stubborn.
And most of the time they're so woozy from pain meds that they need assistance simply to stand.
As I considered the exorbitant number of yellow triangles posted throughout the hospital, it occurred to me that Call. Don't Fall is more than a hospital's safety message. It is God's message to His children.
Call upon Me in the day of trouble; I shall rescue you, and you will honor Me (Psalm 50:15).
Call to me and I will answer you and tell you great and unsearchable things you do not know (Jeremiah 33:3).

He will call upon Me, and I will answer him; I will be with him in trouble; I will rescue him and honor him (Psalm 91:15).
Before they call I will answer; while they are still speaking I will hear (Isaiah 65:24).
Our heavenly Father wants us to call on Him. He wants to be our strength. Our support. Our hope. He wants us to stand firm and not fall. And so as the hours passed and sleep eluded me—in part because of a very attentive nursing staff—I prayed. I called out to the Lord, and as promised, He was with me. He heard the cry of my heart before my thoughts formed a sentence.
God not only wants us to call on Him, He wants us to call on each other. Galatians 6:2 says we are to "Carry each other's burdens, and in this way you will fulfill the law of Christ." So after calling on the Lord and pouring out my heart to Him, I called on three trusted friends. I texted them a simple message, letting them know of my heavy heart and drained emotions. Immediately their prayers went up and moments later one friend texted back, "My prayer is for you to have a peaceful heart and a rested body." Another wrote, "I'm relying on Him to be your strength. Not to give you strength but to be it in you. To calm you and give you peace." The third friend reminded me to "crawl up in God's lap and rest." Such beautiful words of strength and peace.
You'd think I wouldn't need to be reminded to call on the Lord and my friends but, quite frankly, I often need to be reminded. Sometimes I'm forgetful. Sometimes I'm stubborn and think I can stand on my own. And many times, I'm just woozy from the difficulties of life.
Perhaps you're going through a difficult time at your church and feel like you have no one you can call. Or perhaps you've been ousted from your church and your life is in shambles. You may wish you had someone to call but you can't think of a single person you can trust. If either of these scenarios describe you, I urge you to call on the folks at PIR Ministries, MTM Foundation, or check out the list of caregivers who minister to ministers at Caregivers Forum. And, as always, feel free to contact me directly at deanna@deannaharrison.com. Please . . .
CALL. DON'T FALL.