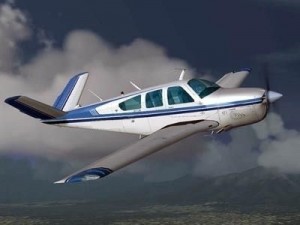 When I was a little girl, my dad flew a small plane. A Beechcraft Bonanza V-tail, to be exact. Family trips were often taken in N2744V. I can still hear my dad's voice repeating that call sign every time he radioed a control tower. By the time I left home for college, I'd spent countless days relaxing in the clouds and numerous nights sleeping in random airports in tiny towns, waiting for bad weather to pass.
One memorable summer trip took us from Texas to California via Nevada. Right over the Rocky Mountains. Oh, what an awful flight that was. The little single-engine plane bounced all over the sky like a ragdoll in a clothes dryer. Daddy never relaxed. . .never took his hands off the controls. Mother's face went pale and my sister and I popped motion sickness tablets and kept our eyes closed. When we finally landed, all we wanted to do was kiss the ground. We weren't afraid. Just really, really wobbly—the same feeling you get when you ride a multi-loop roller coaster one too many times.
Daddy explained that the turbulence was caused by hot air. As air came over the Rockies, he said, it started to roll. The result was that we were flying through hot, rolling air. Like I said, it was an awful, miserable flight. I'm feeling a bit woozy just remembering it.
Believe it or not, I flew with my dad many times after that flight over the Rocky Mountains and never had a moment of fear. Why? Because I trusted him. I knew nothing about aerodynamics. I had no idea how he got the Bonanza off the ground and kept it in the air. I didn't understand how he controlled the plane when we hit turbulence and I didn't understand how he got us back on the ground after flying thousands of feet in the air. I knew absolutely nothing about flying a plane.
But I knew my dad.
I knew my dad loved me and wanted the best for me. I knew he would never do anything that would bring me harm. Instead, he provided for me, protected me and kept me safe. He had earned my trust by being a wonderful father so I kept buckling myself in beside him, without any fear, even though I had no idea what he was doing as a pilot.
If I trusted my earthly father with my life, surely I can trust my heavenly Father. Circumstances may toss me around like a ragdoll. I may have no idea what God is doing when I'm in the middle of the turbulence. But God is still worthy of my trust.
Not only is God worthy of my trust, His Word makes it clear that trusting Him is an integral part of living for Him. Consider these commands, promises and prayers:
Trust in the Lord with all your heart; do not depend on your own understanding. (Prov. 3:5)
You will keep in perfect peace all who trust in you, all whose thoughts are fixed on you! (Is. 26:3)
But I am trusting you, O Lord, saying, "You are my God!" (Psalm 31:14)
For the word of the Lord holds true, and we can trust everything he does. (Psalm 33:4)
Commit everything you do to the Lord. Trust him, and he will help you. (Psalm 37:5)
But when I am afraid, I will put my trust in you. (Psalm 56:3)
O my people, trust in him at all times. Pour out your heart to him, for God is our refuge. (Psalm 62:8)
All you who fear the Lord, trust the Lord! He is your helper and your shield. (Psalm 115:11)
Let me hear of your unfailing love each morning, for I am trusting you. Show me where to walk, for I give myself to you. (Psalm 143:8)
But blessed are those who trust in the Lord and have made the Lord their hope and confidence. (Jeremiah 17:7)
So trust.
Trust the Lord.
And buckle up. Life can become turbulent without warning. But if you're reading this blog, you probably already knew that.