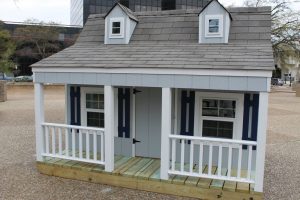 Recently I found myself working with a group of volunteers to build a playhouse for our local crisis center. My job was to paint the exterior. Considering the size of the playhouse, especially the front porch, I found myself on my knees. A lot.
By the time I got to the final touch-up painting, my knees were bruised and sore. And then I remembered that I had a towel in my car. I pushed myself up from the ground, mumbled something to another volunteer about getting the towel to put under my knees, and headed to the car. She hollered after me, "Oh, you don't need to do that. We have knees pads over there" and pointed to a supply box.
The knees pads had been there all along. All I had to do was ask.
The same is true for God's promises. They are right there in His Word, waiting for me to claim them. But often I forget to ask. Maybe sometimes you forget to ask as well. If so, join me in claiming what God has promised His children.
Joshua 1:9 Have I not commanded you? Be strong and courageous. Do not be terrified; do not be discouraged, for the Lord your God will be with you wherever you go.
Psalm 86:5 You are kind and forgiving, O Lord, abounding in love to all who call to you.
Prov. 3:5-6 Trust in the Lord with all your heart and lean not on your own understanding; in all your ways acknowledge him, and he will make your paths straight.
Isaiah 41:10 So do not fear, for I am with you; do not be dismayed, for I am your God. I will strengthen you and help you; I will uphold you with my righteous right hand.
Isaiah 65:24 Before they call I will answer; while they are still speaking I will hear.
Matt. 11:28-29 Come to me, all you who are weary and burdened, and I will give you rest. Take my yoke upon you and learn from me, for I am gentle and humble in heart, and you will find rest for your souls. For my yoke is easy and my burden is light.
I Cor. 10:13 No temptation has overtaken you but such as is common to man; and God is faithful, who will not allow you to be tempted beyond what you are able, but with the temptation will provide the way of escape also, so that you will be able to endure it.
Phil. 4:13 I can do everything through him who gives me strength.
Phil. 4:19 And my God will meet all your needs according to his glorious riches in Christ Jesus.
James 1:5 If any of you lacks wisdom, you should ask God, who gives generously to all without finding fault, and it will be given to you.
James 4:7 Submit yourselves, then, to God. Resist the devil, and he will flee from you.
What about you? Which promises of God are you claiming?